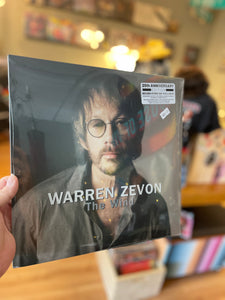 Vintage Vibes 420
Zevon Warren-The Wind
Regular price
$35.00
$0.00
Unit price
per
Zevon Warren-The Wind
SEALED. RECORD STORE DAY 2023.
Released in 2003 to critical acclaim, The Wind is the final album from Warren Zevon, coming just one month before the legendary musician's death. 2023 marks both the 20th anniversary of the album's release and Zevon's passing. The Wind features the Zevon classics "Dirty Life and Times" and "Keep Me in Your Heart" as well as guest spots by Bruce Springsteen, Jackson Browne, Tom Petty, Emmylou Harris and Joe Walsh.
This 20th Anniversary Edition of The Wind has been remastered for vinyl from original source materials at Echo Mastering, supervised by original producers Noah Snyder and Jorge Calderón. It also features an expansive, color booklet featuring track-by-track liner notes by Snyder and Calderón as well as never-before-seen session pictures and ephemera.
1. "Dirty Life and Times"
2. "Disorder in the House"
3. "Knockin' on Heaven's Door"
4. "Numb as a Statue"
5. "She's Too Good for Me"
6. "Prison Grove"
7. "El Amor de Mi Vida"
8. "The Rest of the Night"
9. "Please Stay"
10. "Rub Me Raw"
11. "Keep Me in Your Heart"
---