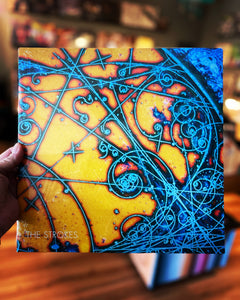 Vintage Vibes 420
Strokes The-Is This It
Regular price
$25.00
$0.00
Unit price
per
Strokes The-Is This It
SEALED.
Is This It is the debut studio album by American rock band the Strokes. It was first released on July 30, 2001, in Australia, with RCA Records handling the release internationally and Rough Trade Records handling the United Kingdom release. It was recorded at Transporterraum in New York City with producer Gordon Raphael during March and April 2001. For their debut, the band strived to capture a simple sound that was not significantly enhanced in the studio. Building on their 2001 EP The Modern Age, the band members molded compositions largely through live takes during recording sessions, while songwriter and lead singer Julian Casablancas continued to detail the lives and relationships of urban youth.
The international cover art of Is This It is by Colin Lane and features a photograph of a woman's rear and hip, with a leather-gloved hand suggestively resting on it. The model was Lane's then-girlfriend, who explained that the photoshoot was spontaneous and happened after she came out of the shower naked. Lane recalled that a stylist had left the glove in his apartment and noted, "We did about 10 shots. There was no real inspiration, I was just trying to take a sexy picture." The result was included in the book The Greatest Album Covers of All Time, in which Grant Scott, one of the editors, noted influences from the works of Helmut Newton and Guy Bourdin. Scott concluded, "It's either a stylish or graphically strong cover or a sexist Smell the Glove travesty." Although British retail chains HMV and Woolworths objected to the photograph, they stocked the album without amendment.
For the American market and the October 2001 release, the cover art of Is This It was changed to a psychedelic photograph of subatomic particle tracks in a bubble chamber. The same image appears on the cover of The Scientist as Rebel by theoretical physicist Freeman Dyson. A portion of the image also appeared on Prince's 1990 album Graffiti Bridge. RCA product manager Dave Gottlieb commented that "it was straight up a band decision", while Gentles indicated that Casablancas had wanted it to appear globally. According to the band's manager, the frontman phoned him before the Japan and Europe release and said, "I found something even cooler than the ass picture." At the time, the Lane photograph was already at the presses and was included in the July and August 2001 versions. The Strokes' 2003 biography mentions the fear of objections from America's conservative retail industry and right-wing lobby as reasons for the artwork's alteration.
The group deliberately left out the grammatically correct question mark from the album title because aesthetically, "it did not look right". The booklet insert contains stylized separate portraits of the Strokes, Raphael, Gentles, and Bowersock, all photographed by Lane.
---