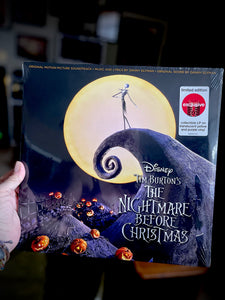 Vintage Vibes 420
Nightmare Before Christmas, The-Disney Tim Burton's Original Motion Picture Soundtrack
Regular price
$40.00
$0.00
Unit price
per
Nightmare Before Christmas, The-Disney Tim Burton's Original Motion Picture Soundtrack
SEALED. LIMITED EDITION. TARGET EXCLUSIVE. TRANSLUCENT YELLOW & PURPLE VINYL.
The Nightmare Before Christmas is the fifteenth soundtrack album by American composer Danny Elfman. It was released on October 12, 1993, by Walt Disney Records to promote the 1993 American stop-motion animated musical dark fantasy film The Nightmare Before Christmas. Composed by Danny Elfman, the soundtrack was nominated for the 1993 Golden Globe for Best Original Score. The album peaked at #64 on the US Billboard 200. For the film's 2006 re-release in Disney Digital 3-D, a special edition of the soundtrack was released, a bonus disc which contained covers of five of the film's songs by Fall Out Boy, Panic! at the Disco, Marilyn Manson, Fiona Apple and She Wants Revenge. Four original demo tracks (six on the Best Buy exclusive) by Elfman were also included.
The soundtrack was composed by composer and then-Oingo Boingo frontman Danny Elfman. Elfman sought to make the soundtrack timeless and drew on classic popular composers for inspiration. He explained: "I wanted it to sound like it was written 50 or 100 years ago, so I turned my own influences for that stuff. Kurt Weill's The Threepenny Opera, which was a major thing in my life, was a source, as well musicals from Cole Porter and Gershwin, and to a certain extent, Rodgers and Hammerstein." For "What's This?" Elfman sought to capture the rapid-pace lyricism of Gilbert and Sullivan.
In a later interview, Elfman likened Jack Skellington's experience as the leader of Halloweentown looking to escape to a different world to his discontentment with being the leader of his band, Oingo Boingo. He recalled, "'I always felt Jack was a part of me. ... When I wrote those songs, I was in kind of a unique position, because like Jack I was the king of my own little kingdom – that was Oingo Boingo. And like Jack, I really wanted a way out, but I didn't know how to get out because so many people depended on me. So my own psychological mindset at the time was that I was writing from my own perspective as much as his, because I understood what it felt like to want something else."
---