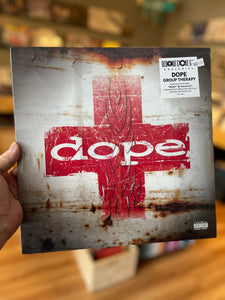 Vintage Vibes 420
Dope-Group Therapy
Regular price
$32.00
$0.00
Unit price
per
Dope-Group Therapy
SEALED. RECORD STORE DAY 2023.
Group Therapy is the third studio album by American nu metal band Dope. The enhanced portion of the album contains a music video for each song. Group Therapy shows the band expanding on the more alternative metal style music the band had started on their previous album, Life, and most of the industrial style music has been toned down. The album contains some of the band's most heavy and aggressive songs while certain songs such as "Sing", "Another Day Goes By" and "Easier" show a softer, more melodic sound. In the second half of 2004 the album had already sold about 37,749 in United States. "Now is the Time" was used in an episode of Dog the Bounty Hunter.
20th Anniversary release.
1."Falling Away"
2."Bitch"
3."I Am"
4."Motivation"
5."Sing"
6."Now Is the Time"
7."Paranoia"
8."Bring It On"
9."Another Day Goes By"
10."Today Is the Day"
11."Burn"
12."Easier"
13."So Low"
---