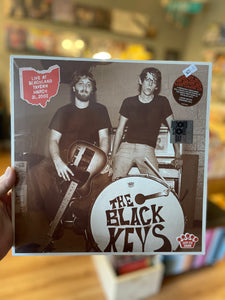 Vintage Vibes 420
Black Keys-Live at &beach Land Tavern March 31 2002
Regular price
$23.00
$0.00
Unit price
per
Black Keys-Live at &beach Land Tavern March 31 2002
SEALED. RECORD STORE DAY 2023.
In celebration of the band's 20th anniversary, The Black Keys present a previously unreleased full-length live recording of their very first show, in 2002, at Beachland Tavern in Cleveland, Ohio. The Black Keys released their best-selling, Grammy-nominated, eleventh studio album, Dropout Boogie, in 2022, and they will return to Europe this summer for their first European tour since 2015.
On exclusive tangerine vinyl.
1. Busted (Live at Beachland Tavern March 31, 2002) 2. I'm For You (Live at Beachland Tavern March 31, 2002) 3. Do the Rump (Live at Beachland Tavern March 31, 2002) 4. I'll Be Your Man (Live at Beachland Tavern March 31, 2002) 5. Yearnin' (Live at Beachland Tavern March 31, 2002) 6. No Trust (Live at Beachland Tavern March 31, 2002) 7. Them Eyes (Live at Beachland Tavern March 31, 2002) 8. The Moan (Live at Beachland Tavern March 31, 2002)
---